Sasuke Takahashi (高橋サスケ Takahashi Sasuke) (born on February 4, 1989) is a Japanese professional wrestler and mixed martial artist. He is currently under contract with UFC.
He is best known for the rumor that in a street fight before his MMA career that he "Kicked a man's head off" earning him the nickname "Buzzsaw." This nickname followed him all the way to the UFC where his deadly kicks were showcased in every fight.
Early life
Takahashi was an avid Bruce Lee fan getting into Martial Arts at an early age. This caused others to bully him and see if he could really fight, Takahashi began to get into many fights after school hours. He earned a reputation of being the greatest street fighter in Japan having never lost a fight. A rumor began to spread that Takahashi once "kicked a man's head off" giving him the nickname "Buzzsaw." It was said that Takahashi could kick through anything and this is the fame that attracted the attention of the UFC and eventually took Takahashi to The Ultimate Fighter.
Professional wrestling career
It was announced at RTG Pit Stop that Takahashi will soon make his RTG debut. The ownership of RTG soon went through change and rumors speculate that Takashi's contract may have been released completely.
Mixed martial arts
Ultimate Championship Fighting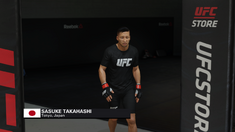 Sasuke Takahashi made his way into the UFC through
The Ultimate Fighter
television show in 2008. It was Team Jones v. Team Cormier and Takahashi's fight was one of the most anticipated on the show.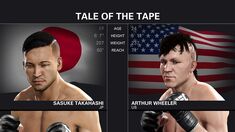 Takahashi did not disappoint as he won his match in amazing fashion with a KO victory early in the first round, 2 minutes and 59 seconds into the first round and the fight was over. Takahashi landed multiple strikes to the head before landing the killing blow via roundhouse kick. Before Takahashi could continue his attack the referee would call the fight.


TUF Draft
Jon Jones saw Takahashi as a middle 5 pick and told him,
"There's a few areas we need to work on, but I see lots of potential in you. With some proper training, you'll be a serious threat."
Daniel Cormier
saw Takahashi as a top 3 pick and told him,
"Great fight, I don't see many holes in your game. Let's get you on my team and take this to the finish."
Sasuke was drafted to Team Cormier with the second pick of The Ultimate Fight Draft. After defeating Kyung Song, Takahashi won
The Ultimate Fighter Finale
starting his official MMA record at 1-0 .
Heavyweight Championship
At UFC 140, Takahashi defeated Stipe Miocic at 3:13 of the 1st round crowning him the youngest champion in UFC history. Stipe Miocic dominated the clinch owning the first minute of the fight. Takahashi use his wingspan advantage keeping distance between them with his left jab. Eventually, Takahashi rocked him with a head leaving an opening for the flying knee that ended the bout.
Light Heavyweight Championship
At UFC 178, Takahashi faced Kyu Jeong, who was a well rounded Freestyle Wrestler, for the UFC Light Heavyweight Championship. Takahashi used his length to his advantage throwing a flurry of jabs and kicks. Takahashi's strength proved to be to much for Jeong as he was backed into the cage and hit with a huge head kick.
In wrestling
Nicknames

"The Buzzsaw"
"The Human Buzzsaw"
Championships & Accomplishments
Mixed Martial Arts
Inside Fights

Rookie of the Year (2008)
Mixed martial arts record
Res.

Record

Opponent

Method

Event

Date

Round

Time

Note

Win

33-0

Dante Burgess

TKO (Punches)

UFC 199

June 4, 2016

1

3:16

Defended the UFC Light Heavyweight Championship.

Win

32-0

Sebastian Baker

KO (Head kick)

UFC 198

May 14, 2016

1

0:41

Defended the UFC Light Heavyweight Championship.

Win

31-0

Cooper Duran

KO (Head Kick)

UFC 194

December 12, 2015

1

3:56

Defended the UFC Light Heavyweight Championship.

Win

30-0

Max Harris

TKO (Punches)

UFC 192

October 3, 2015

1

0:38

Defended the UFC Light Heavyweight Championship.

Knockout of the Night.

Win

29-0

Dillan Romero

TKO (Punches)

UFC 191

September 5, 2015

1

0:50

Defended the UFC Light Heavyweight Championship.

Knockoutof the Night.

Win

28-0

Phillip Long

KO (Head kick)

UFC 190

August 1, 2015

1

0:41

Defended the UFC Light Heavyweight Championship.

Win

27-0

TKO (Punches)

UFC 188

June 13, 2015

2

1:20

Defended the UFC Light Heavyweight Championship.

Win

26-0

Peyton Rodriquez

TKO (Punches)

UFC 185

March 14, 2015

2

4:47

Defended the UFC Light Heavyweight Championship.

Win

25-0

Kyu Jeong

KO (Punch)

UFC 180

December 10, 2011

2

0:35

Defended the UFC Light Heavyweight Championship.

Win

24-0

Kyu Jeong

KO (Head kick)

UFC 178

September 27, 2014

1

1:41

Won the UFC Light Heavyweight Championship.

Win

23-0

KO (Head kick)

UFC 175

July 5, 2014

2

1:39

Defended the UFC Heavyweight Championship.

Win

22-0

Dillan Romero

KO (Knee)

UFC 169

February 1, 2014

1

2:07

Defended the UFC Heavyweight Championship.

Win

21-0

TKO (Punches)

UFC 167

November 16, 2013

1

0:25

Defended the UFC Heavyweight Championship.

Win

20-0

TKO (Punches)

UFC 163

August 3, 2013

2

2:30

Defended the UFC Heavyweight Championship.

Win

19-0

TKO (Punches)

UFC 160

May 25, 2013

1

3:26

Defended the UFC Heavyweight Championship.

Win

18-0

KO (Punch)

UFC

152

September 22, 2012

1

2:33

Defended the UFC Heavyweight Championship.

Win

17-0

KO (Knee)

UFC 145

April 21, 2012

1

3:54

Defended the UFC Heavyweight Championship.

Win

16-0

KO (Knee)

UFC 140

December 10, 2011

1

3:13

Won the UFC Heavyweight Championship.

Win

15-0

KO (Knee)

UFC 133

August 6, 2011

1

2:47

Win

14-0

KO (Knee)

UFC 128

March 19, 2011

1

1:55

Win

13-0

KO (Head kick)

UFC 124

December 11, 2010

1

4:06

Win

12-0

TKO (Punches)

UFC 120

October 16, 2010

1

1:25

Win

11-0

KO (Knee)

UFC 115

June 12, 2010

3

3:05

Win

10-0

Submission (Armbar)

UFC 110

February 21, 2010

1

2:53

Submission of the Night.

Win

9-0

Connor Hodges

KO (Punch)

UFC 107

December 12, 2009

1

1:16

Win

8-0

Submission (Armbar)

UFC 105

November 14, 2009

3

2:36

Submission of the Night.

Win

7-0

TKO (Punches)

UFC 102

August 29, 2009

2

1:11

Win

6-0

Andre Hayes

Decision (unanimous)

UFC 98

May 23, 2009

3

5:00

Win

5-0

Anatoli Krupin

TKO (Punches)

UFC 93

January 17, 2009

1

4:57

Win

4-0

Gordan Dale

Submission (Armbar)

UFC 89

October 18, 2008

1

4:23

Win

3-0

Tuan Tian

KO (Punch)

UFC 85

June 7, 2008

1

2:54

Win

2-0

Hugh Le

TKO (Punches)

UFC 84

May 24, 2008

1

4:33

Win

1-0

Kyung Song

Submission (Armbar)

The Ultimate Fighter:

Team Jones vs

Team Cormier Finale

April 19, 2008

2

3:56
See also
External Links